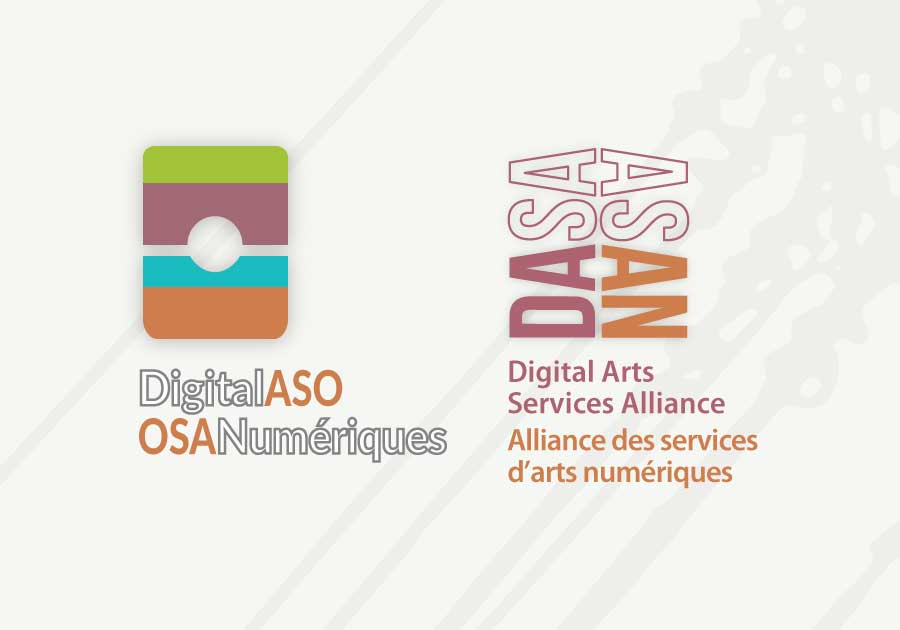 ARTS LEADERS BOLSTER CANADIAN DIGITAL ECOSYSTEM
Version française ci-dessous
For Immediate Release
Please add to listings until August 1, 2020
Media refer: hello@digitalaso.ca
Toronto (April 22, 2020)
ArtsPond / Étang d'Arts is delighted to announce the launch of DigitalASO / OSANumériques (Phase 2, 2020-2021), a national strategic effort to bolster digital justice and foster an inclusive ecosystem for shared digital innovation in Canadian arts and culture.
Made possible with the support of Canada Council for the Arts' Digital Strategy Fund, DigitalASO (Phase 2) will explore the design of a Digital Arts Services Alliance / Alliance de services d'arts numériques that will foster networks and steward a national strategy for the digital transformation of Canadian arts and culture with a focus on under-served, equity-seeking groups.
Stage 1 will include digital meetups, webinars, podcasts, surveys, consultations, roundtables, and other activities online from May to December 2020. Stage 2 from October 2020 to July 2021 will feature a national public consultation tour to ten cities across Canada, including St. John's, Halifax, Montreal, Toronto, Winnipeg, Saskatoon, Edmonton, Calgary/Banff, Vancouver, and Whitehorse. As an alternative, a robust national digital hub will be developed in Stage 2 should the global pandemic continue to impact travel across Canada beyond July 2020.
The goals of DigitalASO (Phase 2) are to cultivate a national ecosystem that strengthens digital literacy and collaboration, bolsters regional advantages, national champions, and shared human-digital infrastructure in response to urgent, systemic issues in a rapidly evolving digital world. The initiative prioritizes addressing the complex needs of racialized youth, women, New Canadians, Indigenous, and other equity-seeking groups in urban, rural, and remote regions across Canada. The initiative invites leaders from the arts, culture, tourism, creative industries, technology, business, government and more to join forces for collective impact Canada-wide.
A free public webinar (ArtsPond.com) will launch the project on May 13, 2020 at 12 noon eastern.  Please visit ArtsPond.com and DigitalASO.ca for further updates in the coming days, or sign up to join the DigitalASO Ecosystem here.
ArtsPond President/CEO and DigitalASO Co-Founder Jessa Agilo said, "A long labour of love, ArtsPond is honoured to have the opportunity to bring all Canadians together to foster a more inclusive, equitable digital future in arts and culture. Driven by the global pandemic, DigitalASO is well-situated to help better prepare vulnerable Canadian creators and producers to share the joys of artistic expression in both real and digital spaces."
BeMused Network Founder and DigitalASO Co-Founder Margaret Lam, said, "Complex digital challenges require a cross-disciplinary approach in the best of times. More than ever, I am proud to support DigitalASO's mandate to unite the efforts of research, business, design and technology leaders to help support the diverse realities and experiences within the arts and culture sector."
DigitalASO Partner Diane Davy, Executive Director of WorkInCulture, said, "Canada needs a national digital strategy that is sensitive to the specifics of the creative community. This is a big idea that requires time and input from many stakeholders but will serve the long-term interests of all. WorkInCulture supports the work being done by ArtsPond on DigitalASO and the Digital Arts Service Alliance and applauds its inclusive approach."
Founded in 2014, ArtsPond is a Canadian non-profit nurturing healthy ecosystems that cultivate social cohesion and boost spatial, economic, equity, and digital justice by fostering cooperative actions fusing social innovation and the arts on-the-ground and in-the-cloud. Incubated by ArtsPond, DigitalASO is a strategic initiative empowering the digital transformation of Canadian arts and culture through digital literacy research, training, platform- and alliance-building. Phase 1 activities from 2017 to 2019 featured the national Managing Creativity in a Digital World Survey and two editions of Digital Arts Services Symposium 2017 and 2019 in Toronto and Ottawa.
DigitalASO Phase 2
Founders
Jessa Agilo (Founder, ArtsPond / Étang d'Arts, Toronto)
Margaret Lam (Founder, BeMused Network, Kitchener/Waterloo)
Founding Advisory
April Britski (CARFAC, Burnaby)
Gregory Burbidge (Calgary Arts Development, Alberta)
Diane Davy (Executive Director, WorkInCulture, Toronto)
Stephanie Draker (Program Manager, WorkInCulture, Toronto)
Frédéric Julien (Director of Research and Development, CAPACOA, Ottawa)
Valentine Goddard (CEO, AI Impact Alliance, Montreal)
Sara Grimes (Director of Knowledge Media Design Institute, iSchool, University of Toronto)
Wilma Hartmann (Director, Unscripted Twillingate Digital Arts Festival, Newfoundland + Labrador)
Sherri Helwig (Associate Professor, Arts Management, University of Toronto Scarborough)
Tom Lambert (SPARC/Arts Council Haliburton Highlands, Haliburton)
 Brenda Leadlay (Executive Director, BC Alliance for Arts + Culture, Vancouver)
Tammy Lee (Co-Founder, CEO, Culture Creates, Montreal)
Mary Elizabeth Luka (Assistant Professor, iSchool + Arts, Culture, and Media UTSC, University of Toronto)
Amy Macdonald (Program Manager, ELAN Quebec, Montreal)
Jean Macpherson (Program Manager, Digital & Media Art, The Banff Centre, Alberta)
Mariel Marshall (Co-Founder, StagePage, Toronto)
Jerrold McGrath (President, Intervene Design, Toronto)
Inga Petri (President, Strategic Moves, Whitehorse)
Cate Proctor (Founder & Principal, Proctor Group Consulting, Ottawa)
Tammy Rea (Supporting Performing Arts in Rural & Remote Communities, Haliburton)
Andrew Scholotuik (Director of FAVATV, Film and Video Society of Alberta, Edmonton)
Giorgia Severini (Member Services Coordinator, Writers' Guild of Alberta, Edmonton)
Ora Steyn (VP, Ladysmith Arts Council, Vancouver Island)
Dan Webster (Greenland Productions, Montreal)
Sagan Yee (Executive Director, Hand Eye Society, Toronto)
LES LEADERS DU SECTEUR ARTISTIQUE RENFORCENT L'ÉCOSYSTÈME NUMÉRIQUE CANADIEN
POUR PUBLICATION IMMÉDIATE
À AJOUTER AUX LISTES JUSQU'AU 1ER AOÛT 2020
Références médiatiques : hello@digitalaso.ca
Toronto (22 avril 2020)
ArtsPond / Étang d'Arts est ravi d'annoncer le lancement de DigitalASO / OSANumériques (Phase 2, 2020-2021), un effort stratégique national visant à renforcer la justice numérique et à favoriser un écosystème inclusif pour l'innovation numérique partagée dans les arts et la culture au Canada.
Rendu possible grâce au soutien du Fonds  stratégie numérique du Conseil des Arts du Canada, OSANumériques (Phase 2) explorera la conception d'une Digital Arts Services Alliance / Alliance de services d'arts numériques qui favorisera les réseaux et gérera une stratégie nationale pour la transformation numérique des arts et de la culture canadiens en mettant l'accent sur les groupes mal desservis et en quête d'équité.
L'étape 1 comprendra des rencontres numériques, des webinaires, des podcasts, des enquêtes, des consultations, des tables rondes et d'autres activités en ligne de mai à décembre 2020. La deuxième étape, d'octobre 2020 à juillet 2021, comprendra une tournée nationale de consultation publique dans dix villes du Canada, dont St. John's, Halifax, Montréal, Toronto, Winnipeg, Saskatoon, Edmonton, Calgary/Banff, Vancouver et Whitehorse. Comme alternative, un  centre numérique national robuste sera développé dans de la deuxième étape, si la pandémie mondiale continue à avoir des répercussions sur les voyages au Canada au-delà de juillet 2020.
Les objectifs de OSANumériques (Phase 2) sont de cultiver un écosystème national qui renforce la culture numérique et la collaboration, qui renforce les avantages régionaux, les champions nationaux et l'infrastructure numérique humaine partagée en réponse aux problèmes urgents et systémiques dans un monde numérique en évolution rapide. L'initiative vise en priorité à répondre aux besoins complexes des jeunes racialisés, des femmes, des néo-Canadiens, des autochtones et d'autres groupes en quête d'équité dans les régions urbaines, rurales et éloignées du Canada. L'initiative invite les leaders des secteurs des arts, de la culture, du tourisme, des industries créatives, de la technologie, des affaires, du gouvernement et autres à unir leurs forces pour avoir un impact collectif dans tout le Canada.
Un webinaire public gratuit (ArtsPond.com) lancera le projet le 13 mai 2020 à midi (heure de l'Est).  Veuillez consulter les sites ArtsPond.com et DigitalASO.ca pour d'autres mises à jour dans les prochains jours, ou inscrivez-vous pour rejoindre l'écosystème OSANumériques ici.
Jessa Agilo, présidente et directrice générale d'Étang d'Arts et co-fondatrice de OSANumériques, a déclaré : "Fruit d'un long travail d'amour, Étang d'Arts est honoré d'avoir l'occasion de rassembler tous les Canadiens pour favoriser un avenir numérique plus inclusif et plus équitable dans le domaine des arts et de la culture. Poussé par la pandémie mondiale, OSANumériques est bien placé pour aider à mieux préparer les créateurs et producteurs canadiens vulnérables à partager les joies de l'expression artistique dans les espaces réels et numériques".
Margaret Lam, fondatrice du BeMused Network et co-fondatrice de OSANumériques, a déclaré : "Les défis numériques complexes exigent une approche interdisciplinaire dans le meilleur des cas. Plus que jamais, je suis fière de soutenir le mandat de OSANumériques qui consiste à unir les efforts des leaders de la recherche, des affaires, du design et de la technologie pour aider à soutenir les diverses réalités et expériences au sein du secteur des arts et de la culture".
Diane Davy, partenaire de OSANumériques et directrice exécutive de WorkInCulture, a déclaré : "Le Canada a besoin d'une stratégie numérique nationale qui tienne compte des spécificités de la communauté créative. C'est une grande idée qui demande du temps et la contribution de nombreux acteurs, mais qui servira les intérêts à long terme de tous. WorkInCulture soutient le travail effectué par ArtsPond / Étang d'Arts sur OSANumériques et l'Alliance des services d'arts numériques et applaudit son approche inclusive".
Fondé en 2014, ArtsPond est un organisme canadien à but non lucratif qui favorise la santé des écosystèmes, la cohésion sociale et la justice numérique en encourageant les actions coopératives qui fusionnent l'innovation sociale et les arts sur le terrain et dans le nuage. Incubé par ArtsPond, DigitalASO est une initiative stratégique qui favorise la transformation numérique des arts et de la culture canadiens par la recherche, la formation, la création de plateformes et d'alliances en matière de culture numérique. Les activités de la phase 1, de 2017 à 2019, comprenaient l'enquête nationale Managing Creativity in a Digital World Survey et deux éditions du Digital Arts Services Symposium 2017 et 2019 à Toronto et à Ottawa.
OSNumériques Phase 2
Fondatrices
Jessa Agilo (Fondatrice, ArtsPond / Étang d'Arts, Toronto)
Margaret Lam (Fondatrice, BeMused Network, Kitchener/Waterloo)
Avis
April Britski (CARFAC, Burnaby)
Gregory Burbidge (Calgary Arts Development, Alberta)
Diane Davy (Executive Director, WorkInCulture, Toronto)
Stephanie Draker (Program Manager, WorkInCulture, Toronto)
Frédéric Julien (Director of Research and Development, CAPACOA, Ottawa)
Valentine Goddard (CEO, AI Impact Alliance, Montreal)
Sara Grimes (Director of Knowledge Media Design Institute, iSchool, University of Toronto)
Wilma Hartmann (Director, Unscripted Twillingate Digital Arts Festival, Newfoundland + Labrador)
Sherri Helwig (Associate Professor, Arts Management, University of Toronto Scarborough)
Tom Lambert (SPARC/Arts Council Haliburton Highlands, Haliburton)
 Brenda Leadlay (Executive Director, BC Alliance for Arts + Culture, Vancouver)
Tammy Lee (Co-Founder, CEO, Culture Creates, Montreal)
Mary Elizabeth Luka (Assistant Professor, iSchool + Arts, Culture, and Media UTSC, University of Toronto)
Amy Macdonald (Program Manager, ELAN Quebec, Montreal)
Jean Macpherson (Program Manager, Digital & Media Art, The Banff Centre, Alberta)
Mariel Marshall (Co-Founder, StagePage, Toronto)
Jerrold McGrath (President, Intervene Design, Toronto)
Inga Petri (President, Strategic Moves, Whitehorse)
Cate Proctor (Founder & Principal, Proctor Group Consulting, Ottawa)
Tammy Rea (Supporting Performing Arts in Rural & Remote Communities, Haliburton)
Andrew Scholotuik (Director of FAVATV, Film and Video Society of Alberta, Edmonton)
Giorgia Severini (Member Services Coordinator, Writers' Guild of Alberta, Edmonton)
Ora Steyn (VP, Ladysmith Arts Council, Vancouver Island)
Dan Webster (Greenland Productions, Montreal)
Sagan Yee (Executive Director, Hand Eye Society, Toronto)